For the complete Spring 2014 Newsletter, click here.
Why Libraries Matter

We invite you to read an article on the importance of libraries written by Dr. Peggy Sharp Chamberlain. Dr. Peggy Sharp Chamberlain is an experienced teacher and library media specialist who has received national awards for her creative teaching ideas.
Save the Date! Paws to Read Summer Reading Club

The Round Lake Area Public Library's annual Summer Reading Club will kick-off on                Saturday, June 7th! This year's theme will be "Paws to Read." Go to ireadprogram.org for more information.
Introducing: Delve and Devour Book Club

The Delve and Devour Book Club is a new book club for those in grades 6 to 8 or ages 12 to 14. The first discussion will take place on Thursday, March 20th at 4 p.m. in the Activity Room.
Register now and pick up a free copy of the book being discussed. Everyone registered will be able to participate in an activity and enjoy a snack based on the story.
What's Your Favorite Children's Book?


The kids have spoken. Now the top 16 favorite titles that you voted for will face off to decide which book will reign supreme.  Don't forget to visit the library each week to vote and see which book will move on towards the finals. Remember, only one book can be named Champion...you be the judge!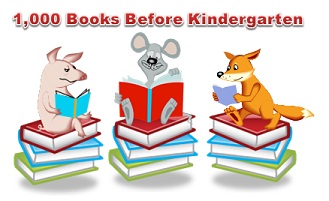 Learning to read begins before your child starts school. The 1,000 Books Before Kindergarten ongoing program encourages you to read 1,000 books to your child before he or she enters kindergarten. Just read three books a day for one year and it will add up to over 1,000 books!
The guidelines are simple: Read together and write down the book titles in your reading log you received when you signed up. After every 100 books read, bring your reading log to the library so we can reward your child with a sticker or a prize and pick up the next reading log sheets. After finishing 1,000 books, your child will receive a book of their choosing to keep and a certificate! This program has no end date except when your child enters kindergarten.
Register now in the Youth Services Department!